Australian cricketing icon, Dean Jones, has released a limited edition personally signed and numbered full size Kashmir willow cricket bat. It is housed in a purpose built Australian made jarrah frame, complete with a shatter proof perspex cover with unique engraving. The unit can be mounted on the floor, in a corner, or on a wall.
Here's your chance to do to Dean Jones what the
ACB had been trying to do for years … Hang him!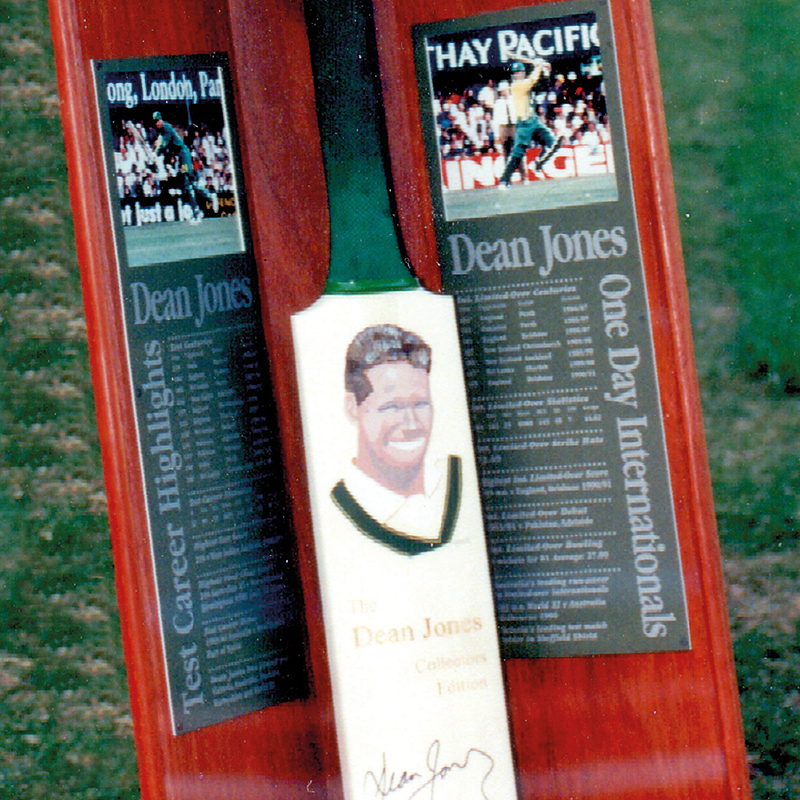 Each bat also features an original hand painted and signed portrait of Dean Jones by renowned Victorian artist, the late Mr Peter Knoblock. The collection also contains two never before published colour photographs of Dean Jones in action during his last appearance at the Sydney Cricket Ground. The frame also comes complete with match statistics from both his test and limited-over careers along with a Certificate of Authenticity.
This piece of sporting history is a must for every fan and collector, as it is the first time Dean Jones has put his name to a collectors edition cricket bat. The offer is limited to only 500 units worldwide, and is valued at AUD$795.00 each [which includes GST, Australian delivery via Australia Post and insurance]. All international orders are AUD$845.00 which includes worldwide shipping via airmail by Australia Post.
This promotional campaign was successfully completed during Dean's last season with the Victorian Bushrangers.