American popular culture has made a significant impact on the Australian psyche – from cars, television, cinema, clothing, and food, to reshaping the vernacular and written word. After Australia's Golden Age it would take another forty years before we had anything resembling a comic book industry. Given the array of talent and resources available why hasn't there been any recent comics worthy of commercial success?
Up until December 1941, when the United States of America entered the Second World War, the Australian comic industry was primarily devoted to reprinting American newspaper strips. In an attempt to capitalise on the reduction of supplies from England and America the local publishing industry initially increased the quantity of reprints including Donald Duck and Mickey Mouse, Sergeant Stony Craig, and Alley Oop. However, as overseas artwork was hard to access due to wartime restrictions, stocks were soon exhausted. These circumstances lead to the creation of original Australian comic books, ones which were both written and drawn by local talent. While a significant percentage of this original material was crude in design and amateurish in execution, there were a small group of artists whose work was of a high standard. Anything Syd Nicholls (The Phantom Pirate), Hal English (Red Steele), and Syd Miller (Red Gregory) produced was well worth the purchase price.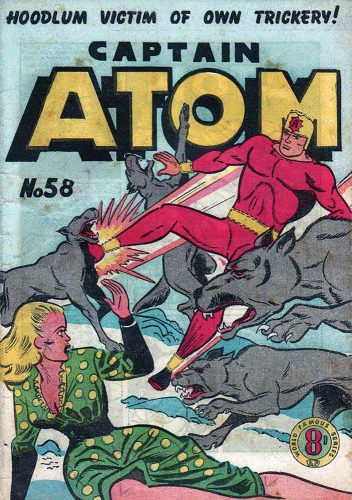 It was the post-war years that established some of Australia's finest comic-book creators. John Dixon (The Crimson Comet), Stanley Pitt (Silver Starr), Monty Wedd (Captain Justice), and Phil Belbin (The Raven) were some of the artists responsible for the 'Golden Age' of Australian comic books. For it was during this period, 1946 to 1958, that American comics were near impossible to buy due to government imposed import restrictions on items that were to be paid for in United States dollars. Restrictions remained in force until the late 1950s so American comics did not re-appear on local newsstands until 1959. Australian publishers such as K.G. Murray Publications decided to print their comics in colour. One of the new titles introduced was Climax which showcased the talents of a number of Australians seen in colour for the first time. Atlas Publications struck back with their own contender in the colour stakes, Captain Atom. Scripted by John Welles and drawn by Arthur Mather, this character was an unabashed combination of another two captains, Triumph and Marvel – where twin brothers made the transformation by uttering the word 'Exnor!'.
Due to Australia's small market and lack of export options it was near impossible for local publishers to sustain the type of circulation required to support the cost of colour reproduction so, in just two short years, the colour experiment was dropped. While colour was gone from the comic book sector, the reprints of American comic characters stayed. It was a fateful decision that culminated into an unwanted outcome. To reduce expenses local publishers reproduced a plethora of American titles, including Batman and Aquaman, to the point that there were few publications not being reprinted. So by the late 1950s the reprints had taken over, displacing an entire industry and leaving only a handful of Australian artists many of whom went 'underground'. The American reprints who were responsible for this extinction were themselves about to be put out of business. The reprint publishers, with their narrow, black and white efforts could not compete against the sharp looking, brightly coloured, comics books which were directly imported from the United States and sold for the same price. And with that, the Australian comic profession, once again, became virtually irrelevant. It would take another forty years before the industry attempted a sustained recovery.
'The golden age of Oz cartooning is in decline and has just about ended.' Vane Lindesay
The only comic of note that came out of this cultural wasteland was Captain Goodvibes*, in 1973, which featured a pot-smoking, motorcycle riding pig. This unflattering publication was the pinnacle of Australia's 'Silver Age' of comics. A renaissance of sorts began in the late 1980s thanks in part to the growth in comic book shops and the dawning of fan based pop culture. The advent of digital delivery, both in p-book and e-book format, and the proliferation of comic conventions (such as ComiXpo, AMC, Supanova, and Oz-Comic Con) have contributed to a resurgence in locally made and manufactured material. Yet, despite the renewed interest, Australia's major magazine publishers consistently refuse to entertain the idea that there is a market for domestically-produced comics. As the industry struggles to gain a foothold against the DC, Marvel, and Dark Horse monopolies could an Australian 'superhero' garner enough support and attention from the reading public to further stimulate the local comic book industry? What is for certain, if there is to be another 'Golden Age' of comics in Australia, it won't be the same as the last one.
---
Bibliography
Ryan, J. 1979. Panel by Panel: A History of Australian Comics Cassell, Sydney, New South Wales
Lindesay, V. 1970. The Inked-in Image: A social and historical survey of Australian comic art Hutchinson, Richmond, Victoria
* 'Captain Goodvibes, the thinking man's fuckwit, a lovable abomination, a cartoon pig who became a cult hero to a generation of Australian surfers. Valiantly battling the three-headed Hydra of sobriety, employment and authority, the Pig of Steel took bad taste, substance abuse and pointless revolution out of the gutter and onto the beach, souring young lives and stealing the promise of a bright future from the tiny hands.' Tony Edwards